◎Brand name=BRING
On one side "BRING" is just the action to transport something from A to B, but we want to encourage you to "bring" your old and unwanted clothing to the collection spots.
◎Character=Bee
Our character represents our work perfectly, it collects unused pollen from flowers to turn it into honey. We collect unwanted materials and turn them into useful resources.
The work and its purpose stays the same.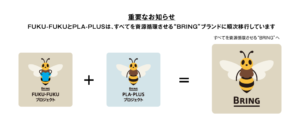 We recycle clothes and other materials to manufacture something new.
The URL of the brand website also changed.
http://bring.org/
We are planning to use mostly the project name BRING in the future.