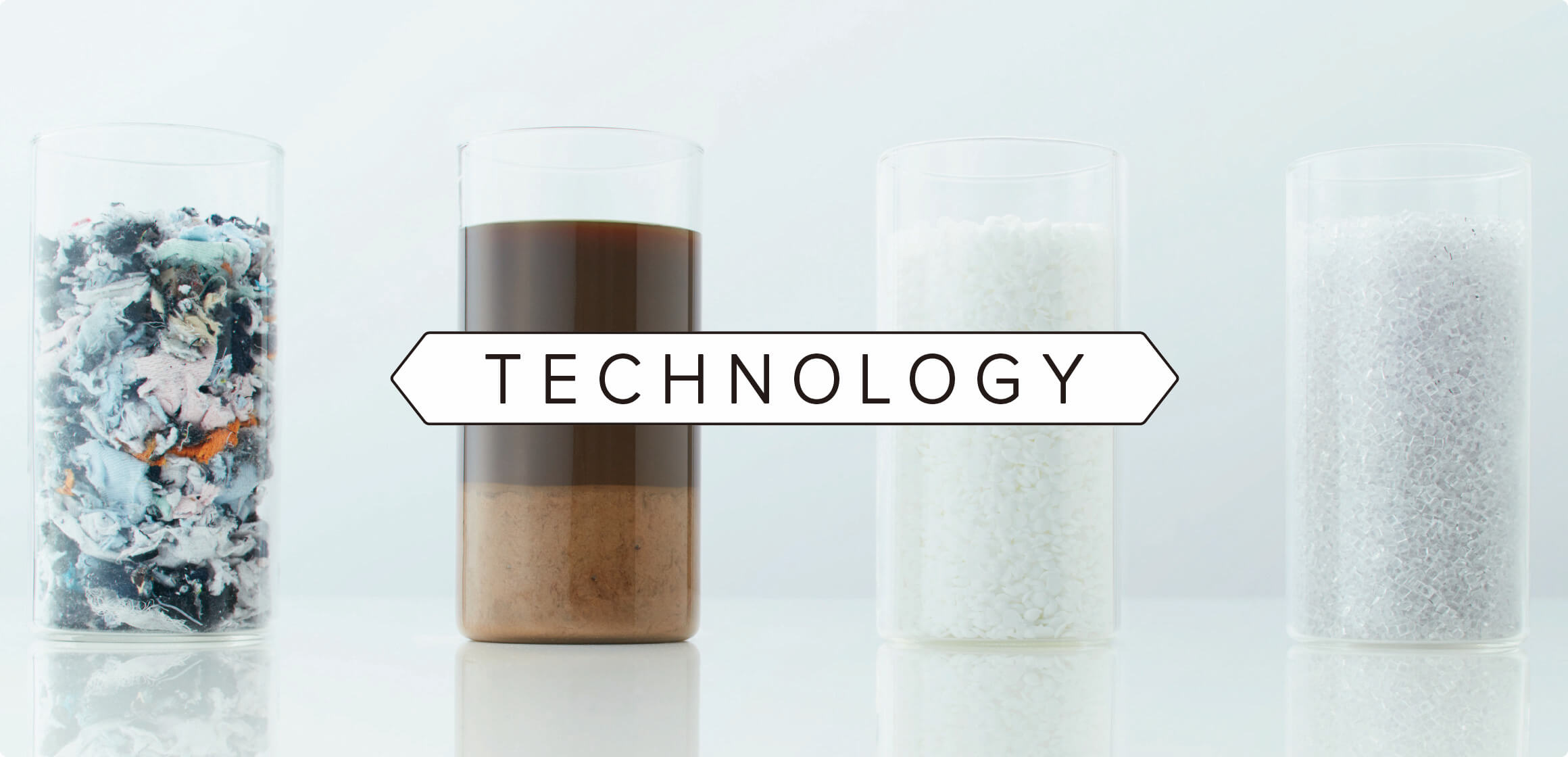 Our vision is "BRING everyone into circular economy".
Helping us to realize this vision is BRING Technology™, a proprietary technology for chemical recycling. This technology can help introduce recycling to PET manufacturing methods throughout the world, allowing us to work with our partners in Japan and overseas toward realization of a circular economy.
BRING Technology™
There are two broad categories of recycling technologies: chemical and mechanical recycling. Chemical recycling refers to chemical treatments for converting feedstocks into different chemical substances, which is superior to mechanical methods in that doing so removes impurities from the materials being recycled.
BRING Technology™ is a proprietary chemical recycling technology for polyethylene terephthalate (PET) plastics, allowing horizontal recycling of clothing into new clothing, or PET bottles into new PET bottles. Further, recycling equipment implementing BRING Technology™ can be introduced to conventional polymerization plants, allowing them to also function as plastic recycling plants. BRING Technology™ is a new recycling technology that can help introduce recycling to manufacturing methods in Japan and overseas.
BRING Technology™ leads the recycling industry
While there are many methods for recycling PET plastics, BRING Technology™ is superior in several respects. We believe that this patented technology will lead the recycling industry, already a hotbed of technological innovation.
It allows manufacture of recycled plastics
with the equal quality as new products. It is difficult to remove impurities from PET bottles and polyester fibers, so they are often incinerated or buried in landfills. BRING Technology™, however, can remove such impurities, allowing manufacture of recycled plastics having the equal quality as new PET resin created from petroleum. As a result, garbage that previously would have been incinerated can instead be reused as a resource many times, contributing to reduced use of petroleum, which is a natural resource, and furthermore reducing greenhouse gas emissions.
Extraction of BHET monomer By combining two purification processes—crystallization and distillation—we extract monomers (bis (2-hydroxyethyl) terephthalate; BHET) while removing all impurities from the materials being recycled. The result is a high-quality product that is suitable for use with foodstuffs and drinking water. These products can also be repeatedly recycled to make new products.
Compatibility with existing equipment BHET extracted in the purification process is a common substance that existing PET polymerization equipment can use as a feedstock. It is also possible to introduce BRING Technology™ recycling equipment to conventional polymerization plants, allowing them to operate as plastic recycling plants.
Optimization of purification processes By changing combinations and sequencing of purification processes according to the condition of the recycled materials and the goal of recycling, it is possible to realize high impurity removal rates and to optimize costs and operations according to need. We are innovating to further improve the efficiency of such purification processes, and we are looking for partner companies to help us with that goal.

A technology for making polyester fibers from polyester fibers, allowing horizontal recycling from clothing to clothing. This will contribute to reducing apparel fiber waste, which is said to exceed 90 million tons worldwide.

A technology for making PET bottles from PET bottles. Using the world's most advanced chemical recycling technologies, we have an established track record for "bottle-to-bottle" commercial production. By using this technology, we can reduce the amount of waste due to plastic bottles, over one million of which are sold each minute worldwide.
Licensing BRING Technology™
BRING Technology™ can contribute to reducing the consumption of petroleum resources by realizing more sustainable resource recycling, which may fundamentally change the way PET plastics are manufactured throughout the world.
From our extensive operational experience in laboratories, test plants, and commercial plants, and from data based on that experience, we have established a BRING Technology™ licensing business, and are engaging in capital investment in existing polymerization plants around the world through joint ventures with affiliated companies. By adopting this technology, not only can PET-related businesses around the world engage in more sustainable manufacturing, they can also change the society and human lives surrounding them.
We believe that attracting environmental, social, and governance (ESG) investment to create jobs through new green-business opportunities around the world will lead to the development of local economies and improvements to living environments. By disseminating BRING Technology™ in Japan and abroad, we hope to provide future generations with a better society.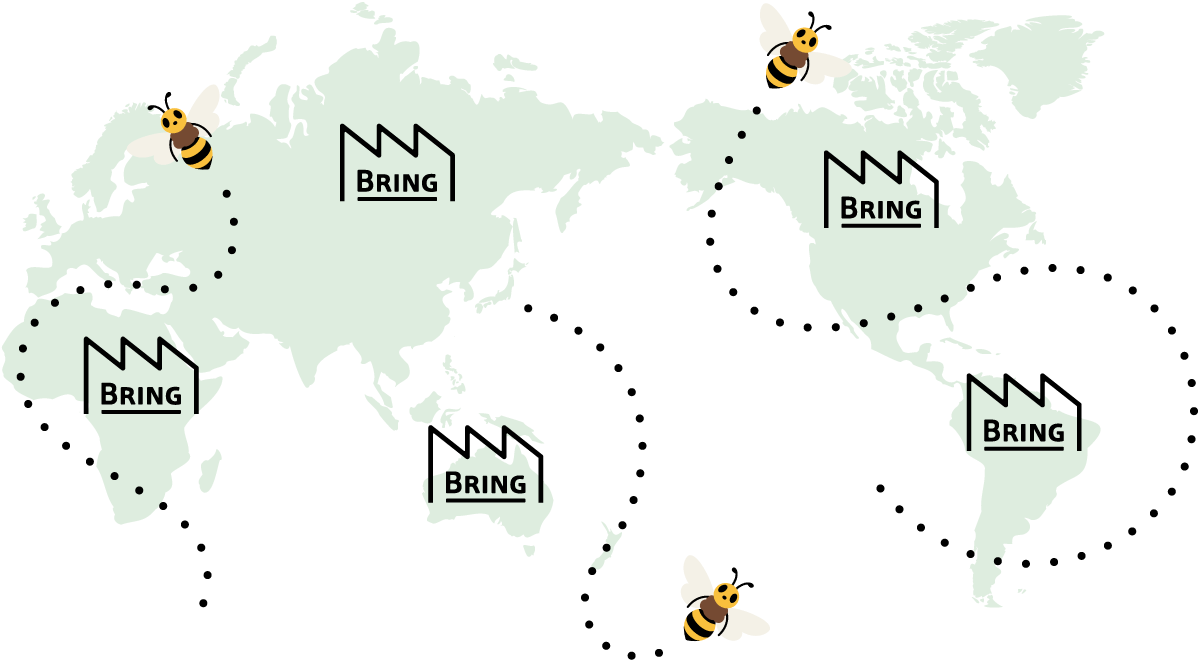 Our partnerships take various forms. We will work closely with other companies and organizations to realize recycling together.
Recycling partners
We will realize our vision of "BRING everyone into circular economy" in coordination and cooperation with recycling partners who share our aspirations.