Making fashion "clean"
Some 2.9 billion articles of clothing are fabricated in Japan each year, but much of that is destined to be thrown away. The same is true in other countries, too. The global fashion industry produces 92 million tons of garbage annually*1, and most discarded clothing is incinerated or buried in landfills. The fashion and textile industries are guilty of over-production and over-disposal, account for 10% of carbon emissions across all industries, and rate second in terms of water resource consumption and water pollution. The United Nations Conference on Trade Development thus designated fashion as the second-largest environmentally polluting industry in the world.
Polyester is a vital material for textiles, accounting for over half of all fibers produced each year. Polyester is an excellent synthetic fiber, advantageous over natural fibers in that it is quick-drying, breathable, and highly durable, but in recent years there are increased concerns over its high environmental impact.
Given this situation, the fashion industry is becoming increasingly focused on realizing ethical and sustainable manufacturing practices. Increasingly many brands and manufacturers are incorporating use of polyester fibers fabricated from recycled PET bottles. Even so, we believe that this alone is not enough. For example, how should we handle unneeded clothing that was made from PET bottles? Is it really natural to throw away clothing just because you're tired of it and no longer wear it?
Reference:
*1 Global Fashion Agenda and The Boston Consulting Group, Inc., Pulse of the fashion industry 2017
Making clothing from clothing:
A new manufacturing challenge
We developed the "clothing-to-clothing" BRING Technology™ as a technology allowing manufactured products to be put back into circulation rather than thrown away. Further, BRING Technology™ clothing can be recycled any number of times, making polyester a sustainable resource rather than an environmental burden. We hope this will fundamentally change methods for manufacturing and attitudes toward it in the fashion industry.
We will return dreams and hopes to the fashion world by creating a future where BRING Technology™ reduces the amount of clothing that is thrown away, allowing us to truly enjoy fashion.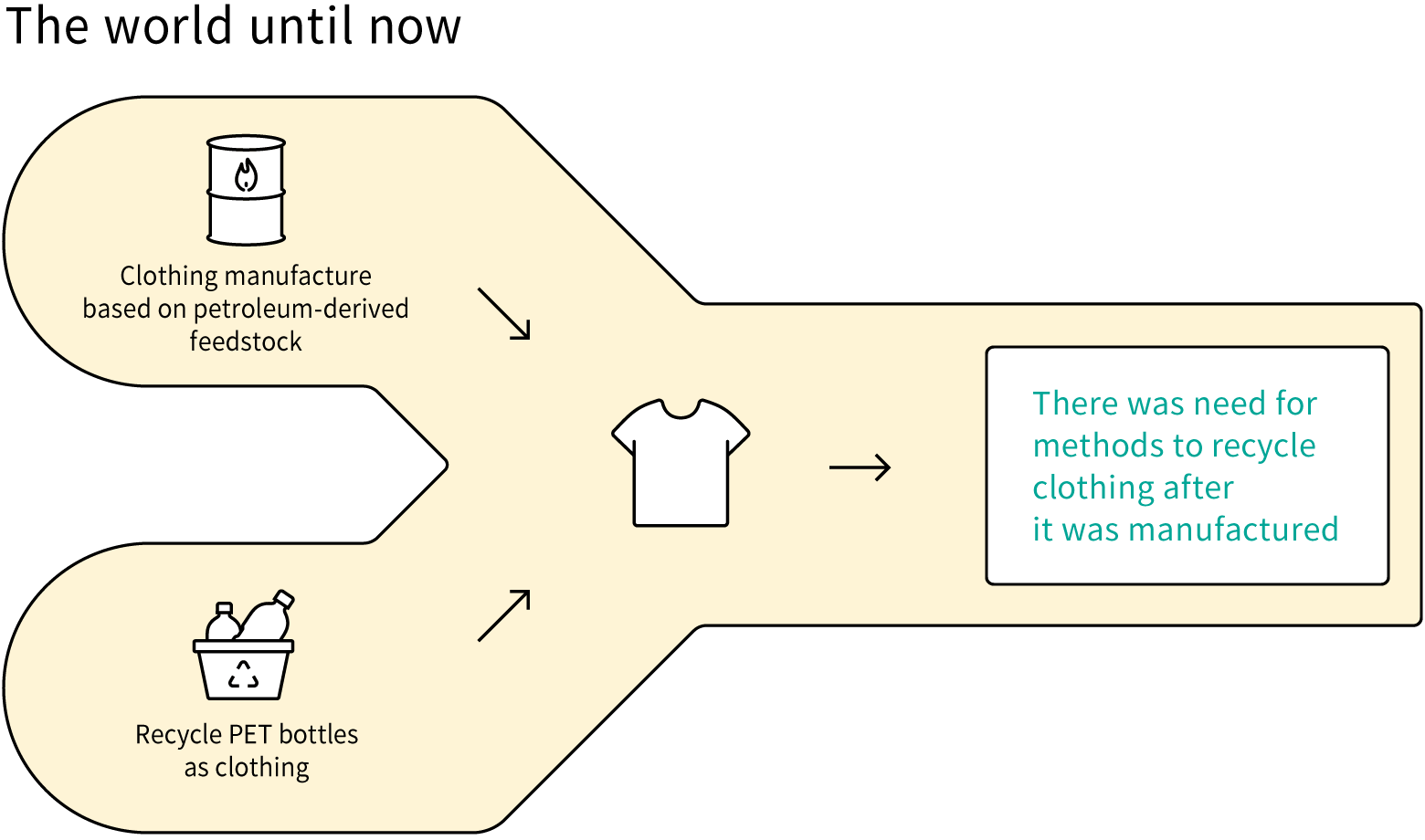 BRING Technology™ transforms one-time recycling of clothing into clothing into a repeating cycle of creating new clothing from old. Making polyester into a sustainable resource will contribute to the fashion industry's goal of realizing sustainability.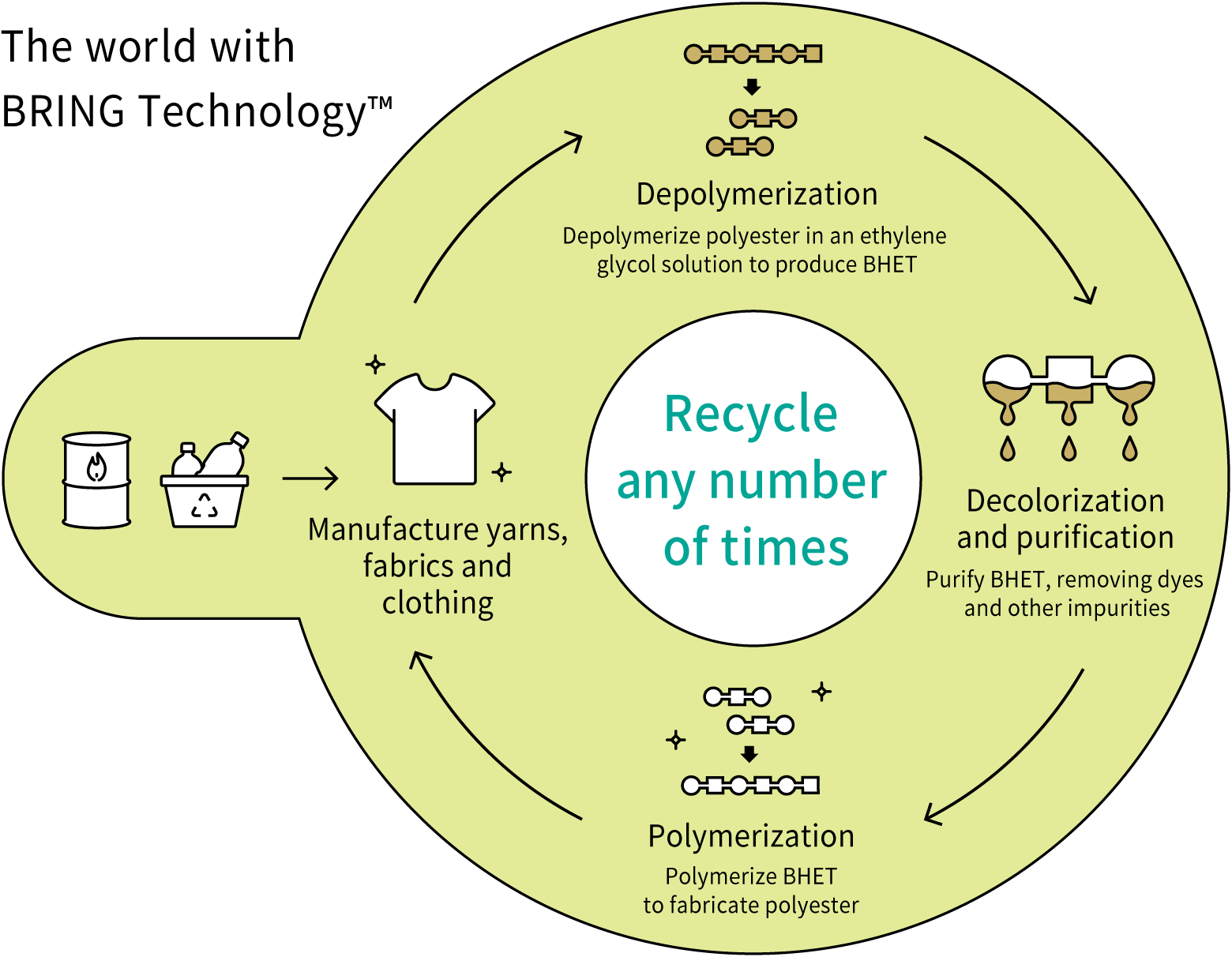 The process of creating clothing from clothing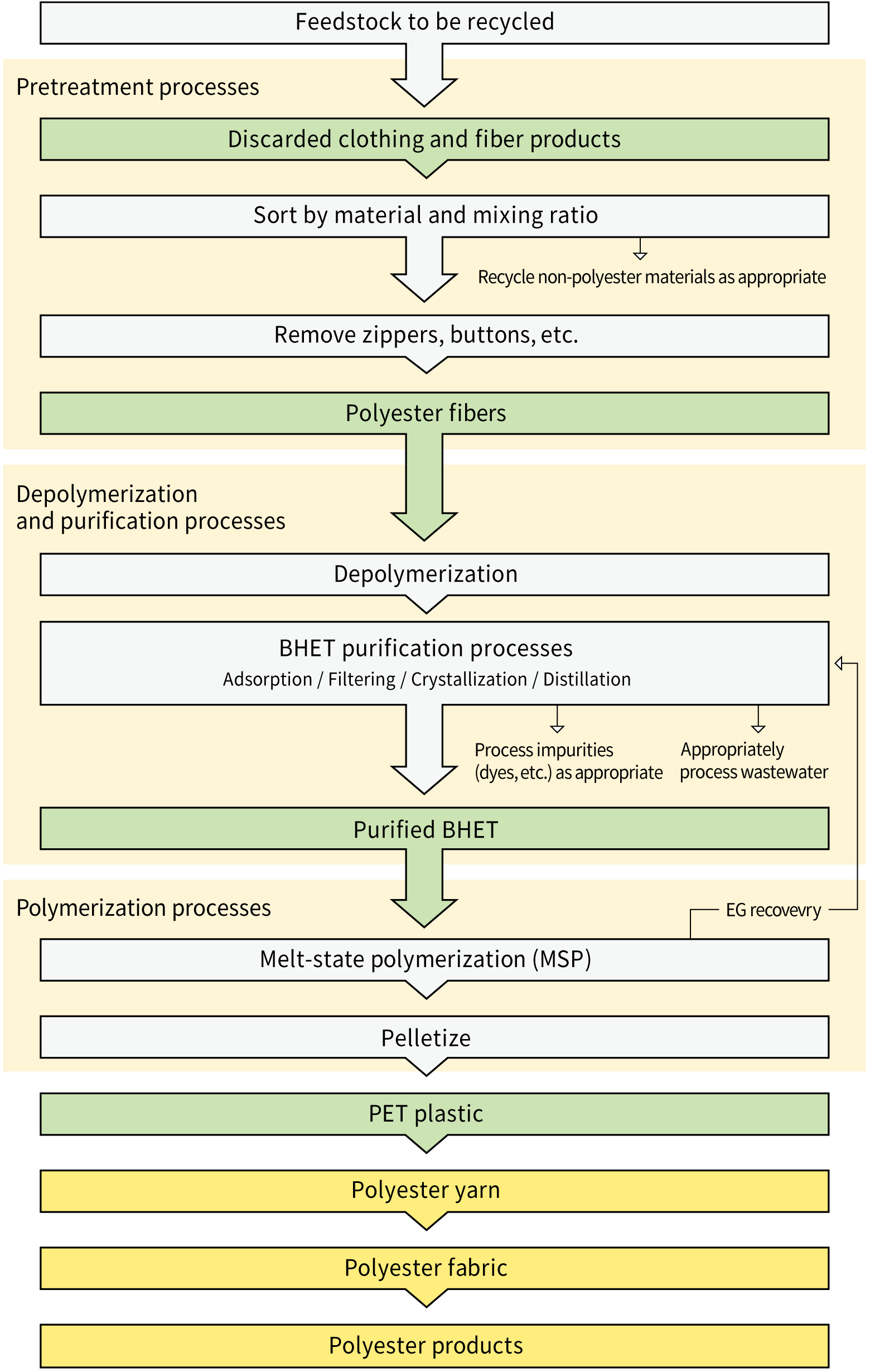 Our Kitakyushu Hibikinada Plant
Address:

1-120-6 Hibikimachi, Wakamatsu-ku, Kitakyushu, Fukuoka, 808-0021 (in the Hibikinada Seaside Industrial Park)

Phone:

+81-93-701-6333

Completion:

November 2016 (phase-1 operations), November 2017 (phase-2 operations)


Recycled Claim Standard(RCS)

certified